Following the "UFC on FOX 3: Diaz vs. Miller" pre-fight press conference early today in New York City, members of the media caught up with UFC president Dana White for a scrum. In the scrum, White answers questions about this Saturday's event as well as a number of topics about MMA.


Highlights of the scrum below, watch the video in the full entry.
Dana shuts down a potential Jon Jones move to heavyweight. Says fighters at heavyweight are monsters and it's a different level, Jones is young and should wait until his body grows into a heavyweight.
White said the UFC is going to stand by Ross Pearson, a featherweight fighter who was recently arrested for suspicion of DUI.
BJ Penn was offered a fight in Strikeforce against Gilbert Melendez but Penn turned it down, citing he did not want to fight for a while.
BJ Penn wants to fight again, preferably at 170 pounds as a welterweight.
White believes Frank Mir is the heavyweight with the most to lose at UFC 146. Also says a loss for Roy Nelson would not be good, refers to Nelson's 1-4 record in his last five fights.
White would like to see more ex-MMA fighters transition into judging. Feels former fighters have a better idea of what's going on in a fight.
White says his patience is wearing thin with former UFC light heavyweight champion Quinton "Rampage" Jackson. "If he's unhappy with us, doesn't like us, and doesn't want to be with us anymore, then the feeling is mutual."
White reiterates that it was scheduling and venue problems that caused the Anderson Silva vs. Chael Sonnen fight to be moved from Brazil to UFC 148 in Las Vegas.
The UFC is planning to hold a mega-show in January 2013. According to White, if all the cards aline properly, the event could be held in Las Vegas, Dallas, TX or Toronto, Canada. No further details were offered.
Hector Lombard could be next in line for a UFC middleweight title shot should he beat Brian Stann at UFC on FOX 4 in August.
White says the organization will address fighter behaviour at the next "UFC Fighter Summit".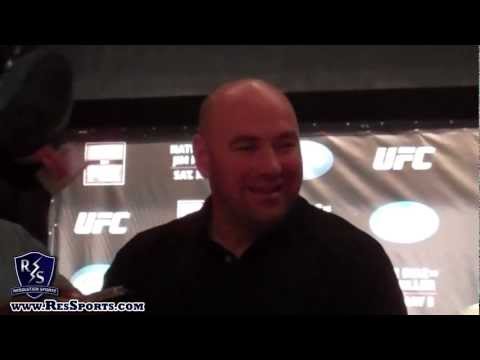 Videos courtesy of MMAFighting, ResSports