With recent confirmation Anderson Silva will fight Chael Sonnen for the UFC middleweight championship for a second time June 23 in Brazil, the trash talk and hyped for one of the most anticipated rematches in UFC history can truly begin. A few weeks back, Silva made some rare comments about the challenger, insisting his opponent stop talking and focus on training for the fight.
"Chael talks too much," the middleweight champion said to Ariel Helwani on FUEL TV's "UFC Tonight" in early February. "Chael needs to train. No more talk, train. Going to Brazil? Big problem."
After Silva's comments about Sonnen, everyone knew the number one contender was going to have a response, and here's what he had to say.
Anderson said I need to stop talking and start training and my response simply would be, why? Why is it that I would do that? And by the way, Anderson, if I want you opinion I will beat it out of you. Don't walk around handing out free advice, why don't you grab a sharpie and draw Steve Segal's widow peak on him. His hairline is about as authentic as his fighting abilities. So, you go sing to your hamburgers and dance on stag with Justin Bieber and I'll handle the heavy work in this company live I have done for the past 5 years in your absence. You don't matter, Anderson, and when you talk to me and talk down on me – don't talk down on me, don't talk to me live you're my equal cause you're not, I stomped you before and I'll stomp you again. You are a nuisance to me and to everybody else, you ducked me for 6 years, then you ducked me for 2 years after that. There's nothing I can do more than pick a fight. You put every stipulation you could on this thing that you could think of and I answered them all, including coming to Brazil like that's some kind of a big deal. What's the difference? It's a plane ride somewhere. I'm not fighting you in Brazil, I'm not fighting you in Chicago, I'm not fighting you in Florida; I'm fighting you in the octagon and when you get there and I get in there, I'm going to stomp you this time the same as I did last time. You can complain about your rib, I'm sure your rib did hurt, your rib is inside of a coward, that's the problem your rib's got. It's got the same problem your hands and feet have, they're attached to you dummy. I'm going to be attached to you to for 25 minutes or until you give up.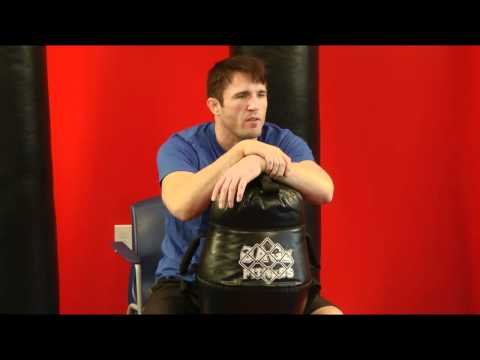 Video courtesy of mchalbee