Add UFC interim welterweight champion Carlos Condit to the list of fighters questioning the true necessity of testosterone replacement therapy (TRT) in mixed martial arts. The 28-year-old recently sat down for an extended Q&A with
GracieMag
and when the issue of TRT was brought up, "The Natural Born Killer" did not hesitate to share his feelings.
"I think it's a slippery slope, you know what I mean? You let guys start using testosterone and it's – where does it end? You know what I mean? I wonder, especially for younger guys, I know Frank Mir's a little bit older and of course your testosterone levels kind of dip as you get older, but some of these younger guys, you know, guys maybe in their late twenties and thirties using testosterone replacement therapy, I wonder, I wonder why is there testosterone low in the first place? And I, my theory is they may have been using something in the past, because when you use steroids, your body, after you get off has a hard time bringing yourself up to natural levels. I don't know man. I'm not going to judge anybody, but that's just, that's not – I got to where I am without ever ever using any performance enhancing drugs.

I love MMA because of the purity of the sport and I think it just muddies the water when you start throwing stuff like that in there. And ultimately, it's not up for me to decide. That's for Athletic Commissions and I guess Dana White and the UFC brass to figure out what they're going to do with that. But, you know, personally, that's just, I have to just, you know, continue with what's worked for me, and that's just being clean."
The Greg Jackson trained fighter has a similar opinion to many that have commented on the TRT craze. He understands why some older athletes may be in need of a testosterone boost because of low levels, but questions why those levels, especially for younger fighters, are low in the first place. He points to past steroid use as a potential reason. Condit's thoughts on the subject aren't exactly revolutionary, but as a self-proclaimed clean athlete, he feels fighters unnaturally fiddling with their testosterone limits bring question to the purity of the sport.
Condit also talks about his tentatively scheduled fight against Georges St-Pierre at UFC 154, the strategy he employed in the Nick Diaz fight and much, much more.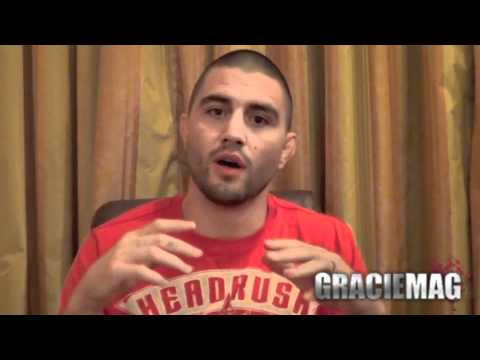 Video courtesy of graciemag
UFC 154 goes down November 21 from the Bell Center in Montreal, Quebec, Canada.
The get the latest on UFC 154, click here. For up-to-date versions of all upcoming fight cards, head over to the rumors section.
Mike Bohn, founder and lead writer of FightCove.com, wrote this article. You can follow Mike on Twitter at @FightCoveMike. Also, follow @FightCove on Twitter and "Like" Fight Cove on Facebook.